Facial toners are an important part of many skincare routines. They can help clean, moisturize, or even out the tone of your skin. A new facial toner can give your skin more moisture and make it feel and look clean and refreshed, making your pores look smaller.
What Is A Fresh Water Toner?
Fresh toner for your face is a product that looks like water and is used after cleansing but before the rest of your routine. It gives your skin the good things it needs and prepares it for the other products in your routine.
Common Uses Of Toners
Depending on your skin type, toners can help clean, moisturize, or even change how your skin looks. Most of the time, toners are used to:
Cleanse: Toner is usually used after washing your face to eliminate any dirt, blackheads, or skin grime your regular cleanser missed.
Reduce Pores: Using a toner after you wash your face helps tighten your skin and make your pores look smaller.
Exfoliate: Alpha-hydroxy acid-based toners are used to get rid of dry or dead skin cells, which can help improve dull skin.
Adjust the pH level of your skin: Washing your face can throw off the pH balance of your skin because most cleansers are too alkaline. The slightly acidic formula of most facial toners can help restore the skin's pH balance if you use it right after washing your face.
Even Skin Tone: If your skin is red or has different textures in different places, a toner help even out your skin tone. If your skin is bumpy, try a fresh toner that exfoliates. Try a toner for sensitive skin if you have red spots.
Moisturize: After cleansing, toners with ingredients like aloe, rose, or hyaluronic help your skin stay moist.
Help prevent ingrown hairs: Toners with alpha hydroxy acids help remove layers of dead skin and help prevent ingrown hairs. As a result, the skin looks smoother and more toned.
Tightens Skin: Using fresh water toner with a mild astringent like witch hazel twice a day is a great way to refresh skin and make it look tighter and firmer.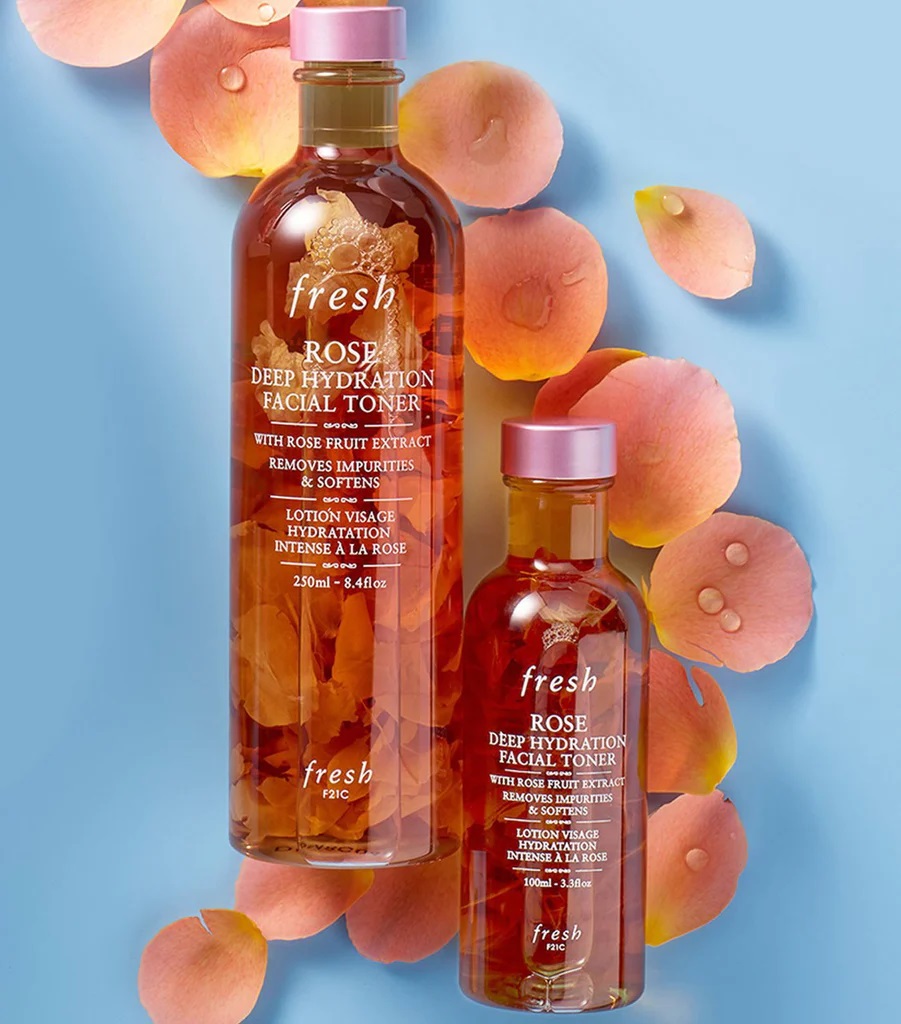 Help Remove Oil And Makeup: Facial toners can give you a second cleanse that removes any makeup your regular cleanser missed. Also, they are great for removing the oil that has built up during the day.
Help Other Products Work Better: When toner is used to prepare the skin, other skincare products get deeper into the skin and work better. A well-made toner can also replace the nutrients that cleansers often take away from the skin. This gives the skin a smoother, more even look.
Refreshes Skin Instantly: One of the main reasons to use a facial toner is to keep your skin hydrated and feeling new.
What Does A Fresh Toner Do?
Before, toners were only used to treat acne and oily skin. These products had a lot of alcohol, so they got a bad reputation for being too dry, harsh, and generally unnecessary.
Fresh water toners are used for very different things these days. Toners on the market can help with almost any skin problem, like oil, wrinkles, dark spots, or even dryness.
Toners have a lot of benefits, but you need to find the right one for your skin type and skin care problems. Here are some of the best natural toner ingredients:
Rose Water: Rose water is a very effective ingredient for skin care that is known for its ability to refresh and feed the skin. A rose toner mist helps your skin heal, stay hydrated, and keep its pH balance, thanks to the power of plants.
Hyaluronic Acid: Hyaluronic acid is the king of skin care because it can hold moisture like magic. Since one of the jobs of facial toners is to help keep moisture in the skin, toners with hyaluronic acid help deliver deep, long-lasting hydration without feeling heavy or greasy.
Green Tea: Green tea, known and loved for its antioxidant properties, can help with everything from acne to aging. After washing your face, a facial toner with green tea can help the skin's surface feel fresh and new.
Aloe Vera: Aloe vera is a natural ingredient known for its soothing and moisturizing effects. Aloe vera is often used in fresh water toners to boost non-greasy hydration and make red, irritated skin look better.
Witch Hazel: Witch hazel is a great way to get rid of extra oil, which can help unclog pores and skin tone. When combined with a moisturizing ingredient like aloe, witch hazel makes a well-balanced toner that can be used on freshly cleaned skin at any time during the day to refresh and hydrate.
Chamomile: This one is for people with sensitive skin. Organic chamomile extract is very soothing and can help reduce redness and inflammation. A facial toner that contains chamomile can help heal and clean sensitive skin without making any conditions worse.
Tea Tree Oil: The tea tree plant is known for calming and killing germs. This can help reduce redness and irritation. As a part of a toner, tea tree oil can also help clear out your pores and get rid of buildup for a calm, even complexion.
Who Needs To Use Toner?
There are toners for each skin type, so almost anyone can use them. For example, people with dry skin would benefit from a toner that hydrates, while people with oily or acne-prone skin would benefit from a toner that cleans.
How To Choose A Toner
When choosing a face toner, you should first think about your skin type and the different kinds of toners.
There are three kinds of toners:
Astringents have the most alcohol and are usually made for oily skin or prone to acne.
Most hydrating toners contain glycerin, which keeps the skin moist.
Mists have many different ingredients and can be used as a refresher at any time of the day.
Sensitive Skin
Look for calming toners that are made for skin that is easily irritated. Toners for sensitive skin can get rid of irritation and make the skin less red. Look for ingredients like chamomile and rosewater, and make sure the label says "hypoallergenic." If you want to take care of your sensitive skin, don't use toners with alcohol.
Look for astringent toners to help stop your skin from making too much sebum and cut down on breakouts and blackheads. People with oily skin should use toners with tea tree oil. Vitamin A is another important thing to focus on.
The best thing to do for dry skin is to use a hydrating toner. Hyaluronic acid toners help the skin keep water, so it stays soft and plump all day. Also, dry skin can get less flaky if you use a toner.
Normal or Combination Skin
If you have normal or combination skin, choose a daily toner that helps balance your skin's pH and removes dirt and oil. You can also change things up based on the time of year. For example, if your skin gets dry in the winter and oily in the summer, you can try different things.
How To Use Face Toner And When To Use It
Toner is a common part of daily skin care. It should be used after washing or exfoliating. Before you put on toner:
Wash your face and pat it dry with a soft towel.
Use a cotton pad or cotton ball to put the toner on your face and neck.
Don't wash off the toner, but let it soak in quickly.
The last step is to put on your moisturizer or face serum.
If you want to add a fresh facial toner to your routine, look at Mint Pear's list of facial toners that make your skin fresh, calm, and glow.